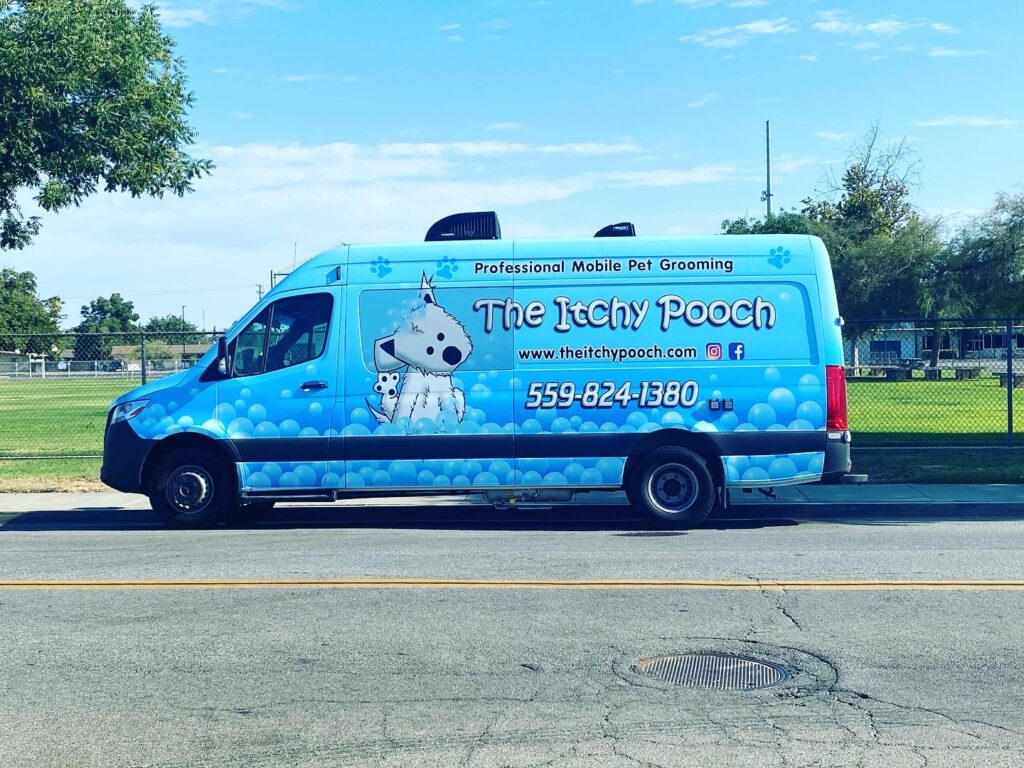 The Itchy Pooch is proud to run our operation from 2 state of the art mobile grooming salons. Our salon will come right to your door — 100% self-contained and requiring no external water or electrical hookups. We can guarantee that you and your pet will feel at ease with our clean environment, comfortable facilities, and high-tech equipment.   No kennels, temperature-controlled environment, quality lighting, and best of all a private grooming setting- no other dogs or distractions around. 
Our new salon features:
3-in-1 Electric Table – Lowers to 18″, rises to 44″, and rotates to 360°. No need to adjust the position of your pet. The table does it for us!
Two Motor High Velocity Dryer – Makes drying times shorter which means your pet will never be cage-dried.
Two 50-Gallon Water Tanks – No need to connect our water supply to your water supply. We are completely self-contained!
Stainless Steel Perforated Shelf in Tub – Raises the smallest dog 9″ from the bottom of the tub, while leaving plenty of room for even the largest dog.
Walk Over Ramp – Eliminates the cumbersome lifting of your pet. Our van features a slide our bridge for easy transfer from table-to-tub.
Warm Jetted Hydro-Massage – Thoroughly cleans your pet while they relax and unwind, without using recycled water.
Climate Controlled Environment – Air conditioned cooled and heated salon for advanced temperature control, keeps your pet cool in hot environments and warm in cold environments.
We serve Hanford, Lemoore, and Laton
Join our family today! Please contact us to schedule your first appointment, and you will discover why starting a relationship with The Itchy Pooch is one of the most rewarding decisions you and your pet will ever make.